Overland Park Arboretum and Botanical Gardens
Nestled in the heart of Overland Park, Kansas, the Overland Park Arboretum and Botanical Gardens is a picturesque haven that celebrates the splendor of nature and offers respite from the bustling city life. With its stunning landscapes, diverse plant collections, and enchanting walking trails, the arboretum and gardens have become a cherished destination for nature lovers, garden enthusiasts, and those seeking tranquility amidst the beauty of the outdoors. Let us embark on a journey to explore the captivating wonders of the Overland Park Arboretum and Botanical Gardens.

Thank you for reading this post, don't forget to subscribe!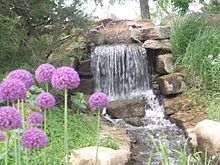 Expansive Gardens and Exquisite Plant Collections:
The arboretum and gardens sprawl across 300 acres, featuring meticulously curated gardens that showcase an extraordinary diversity of plant life. From vibrant flower beds and fragrant herb gardens to serene woodland areas and native prairie landscapes, each garden offers a unique sensory experience. Visitors can wander through the vibrant Rose Garden, marvel at the serene Waterfall Garden, or find solace in the peaceful Japanese Garden, each providing a tranquil oasis for reflection and contemplation.
The arboretum is also home to an extensive collection of trees, including majestic oaks, graceful willows, and colorful maples. With labeled tree specimens and interpretive signs, visitors can learn about the various species and their ecological significance. The arboretum's commitment to preserving and showcasing native plants and trees helps foster an appreciation for the importance of conservation and the beauty of the local ecosystem. More
Trails and Outdoor Exploration:
The Overland Park Arboretum and Botanical Gardens offer a network of walking trails that meander through its enchanting landscapes, providing an opportunity for visitors to immerse themselves in nature and explore the diverse habitats. The trails wind through woodlands, prairies, and gardens, offering glimpses of wildlife and panoramic views along the way. Whether you're seeking a leisurely stroll, a peaceful picnic spot, or a more vigorous hike, the arboretum's trails cater to a variety of outdoor enthusiasts.
Special Events and Educational Programs:
The arboretum and gardens host a range of special events throughout the year, offering visitors unique opportunities to engage with nature and the community. From seasonal plant sales and garden tours to art exhibitions and educational workshops, there's always something exciting happening at the arboretum. The events celebrate the changing seasons, highlight the beauty of the gardens, and foster a sense of connection and appreciation for the natural world.
The arboretum also offers educational programs and classes for adults and children, providing opportunities to learn about gardening, horticulture, and the importance of environmental conservation. These programs encourage participants to develop a deeper understanding of plants, wildlife, and sustainable gardening practices, empowering them to make a positive impact in their own communities.
The Overland Park Arboretum and Botanical Gardens is a breathtaking sanctuary that celebrates the beauty and diversity of nature. With its stunning gardens, diverse plant collections, and educational initiatives, the arboretum invites visitors to connect with the natural world, find solace in its serene landscapes, and gain a deeper appreciation for the importance of conservation and environmental stewardship. A visit to the Overland Park Arboretum and Botanical Gardens is a chance to embark on a journey of exploration, rejuvenation, and inspiration—a testament to the profound wonders that lie within the embrace of nature. Learn More